"These are the best beds yet. I think the Zebra is going to be his favorite. Zebra 4 the living room. Diamond In The Rough 4 the bedroom."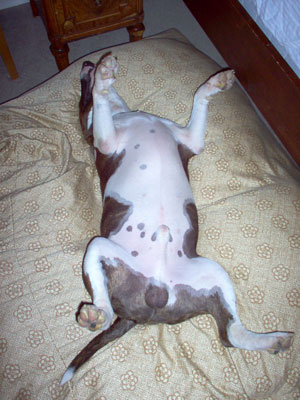 Hello There! Attached is a picture of my Standard Bull Terrier, "Rory Calhoun" loving his HUGE new bed. I actually have two bullies, but the older one still prefers MY bed - ha- ha! I opted for the empty bed, to stuff on my own... after using every old dog bed, sheet, blanket, towel and pillow I had, there is still a little room in that bed! I sew and am very impressed with the quality of construction in your product. I have and will continue to recommend your beds to friends and family. Of course, when the need arises, I will purchase my next dog bed from you!

"Zoey LOVES both of her new beds. We have two and they are her favorite spots in the whole house. Jen and I agree that they are really the nicest pet beds we've seen anywhere."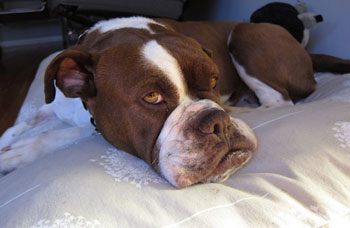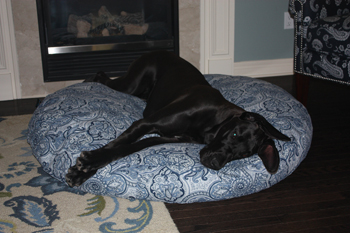 We just received Charlotte's bed yesterday (with new cover for her old one as well – repeat customer) it is really hard to find a bed that fits our Baby girl so she was really happy to get another one. See pictures of our little Great Dane on her GreenerPup bed... Timing was perfect, she turned 1 year old yesterday. Nice birthday present!

Thanks again, love the quality and fabric selections. (already thinking about getting another for the game room).

Velma immediately converted from a curler into a devoted back sleeper. So much more convenient for belly rubs! Thanks!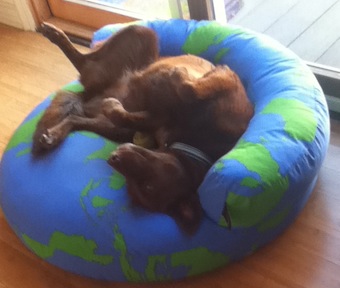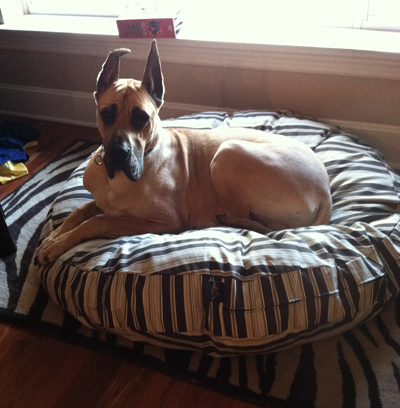 Got new cover today. Love it! Thanks again! Erika and Romeo

Bruno (a former Ace of Hearts dog) snuggled on his new Greener Pup bed!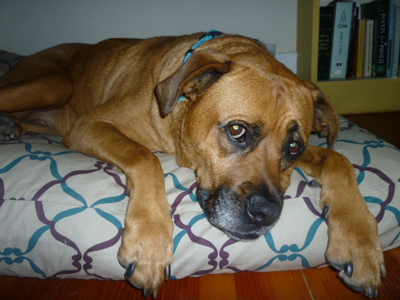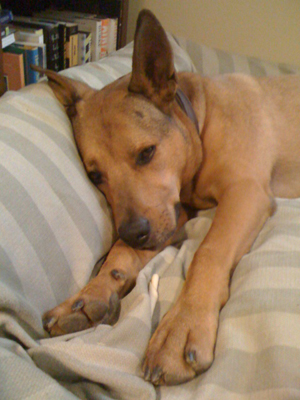 Sisko loves his new bed!

Road Again "Roady" my 7 month old Greater Swiss Mountain Dog says of his XL Rectangular bed: "I ruv this bed so much, I rike it a rot!"

Hey Porter, my 10 year old black lab says of his 52-inch Round bed: "Rime so rumfortable on this bed! Reener Rup rocks!"

Happy dogs, thanks GP!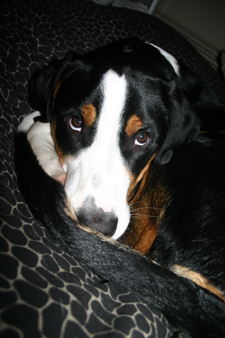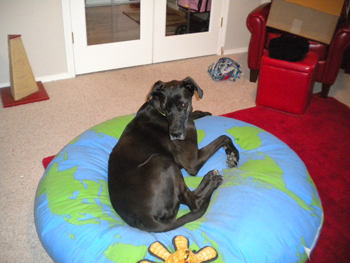 We can't wait to order 2 more, we have 3 new dogs in. Pictured is our oldest gal Kami enjoying her turn on a bed!

"Roxy (our Ace of Hearts rescue) LOVES the Greener Pup beds! We have one for every area of the house she follows us to! Thank you SO much for rescuing sweet Roxy (the day she would have been euthanized!) and also providing the best doggie beds anywhere! We love Ace of Hearts and Greener Pup! And our doggie beds are so comfy and really match our decor! We can't say enough! "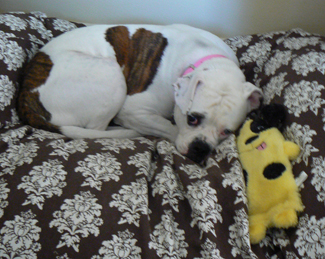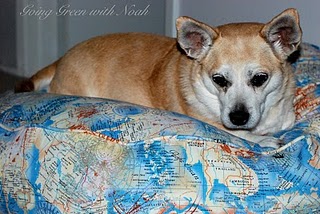 The bed that I received is just amazing! I was surprised with how fluffy and large the bed was. Extremely well constructed, along with using eco-friendly materials, I really can't say enough about the bed, the company.....well I think you are starting to get the drift! I have fallen in love with this company. Here are some pictures of Sandy enjoying her bed....and yes....she got up on the bed all by herself - not bad for having little bitty legs! What's crazy is that it must just be so soft .... because she hasn't been snoring as much! Woohoo! - from Going Green With Noah Blog

Flannigan on his all-time favorite bed! I can't begin to describe how much he truly loves this bed....he is in sleepy time heaven...If I move it he goes a bit crazy. I guess it is his, he loves it, and I'm not permitted to touch it! Thank you so very much for making my alien pug so happy!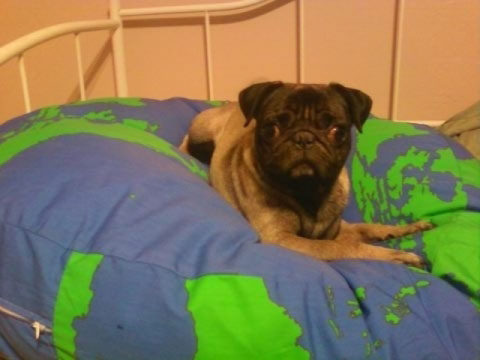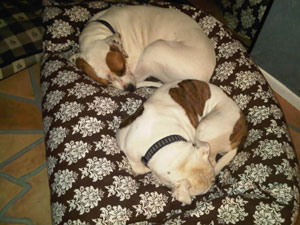 "OMG!! The beds are absolutely AMAZING!!! The dogs LOVE them and they have been sleeping in them ever since they came yesterday. The material is very pretty and feels incredibly durable, and the size - Wow - they are gigantic! Here are a few pics of the dogs enjoying their new beds. Bartie is 100# and has room to spare. Even with Murphy & Zuma sharing there is room for a 3rd. They all seem to ham it up for the camera and jump up when we are taking pics, so they aren't the best shots and we will try to get some really good ones over to you soon. I can't thank you enough for your kindness, thoughtfulness and generosity! Thank you thank you thank you! And the pups really thank you, too!"

"My dog Suri (and her brother, Hunter, who was rescued by my parents) LOVED their beds (in my last order.) Hunter's bed made a great "congratulations" gift for my parents, as they are first-time dog owners (as I am as well.) He loves it! Suri loves hers also. Both of the dogs came home from the shelter with a round bed from their previous owners, and we kept those beds to make the dogs feel more at home with their familiar beds. However, the old beds are pretty beaten-up looking, hence my reason for ordering the new round covers. :) Yay! A great alternative to tossing the old beds, which I couldn't bring myself to do. I'll give new life to some old clothes and such by stuffing the 3rd round cover and giving Suri yet another bed. She's spoiled. As she should be. ;) Thank you so much for offering these beautiful, green, MADE IN THE USA dog beds!!!!" With love and appreciation, Heather and Suri (and Hunter thanks you too!)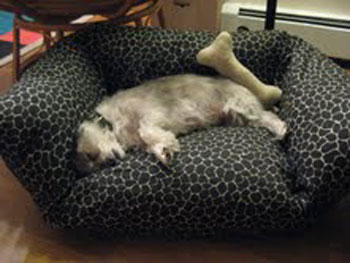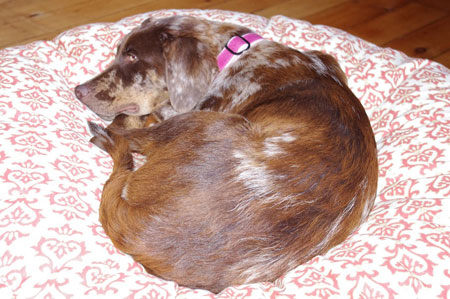 "The beds arrived and they are BEAUTIFUL. Such high quality - I'm going to recommend them to all my friends. The dogs love them! What you're doing is so wonderful. I love supporting organizations like yours."

"Thank you for my wonderful dog bed. We received it today. Here are a couple pictures of the dog we rescued from the SPCA in Fresno, a kill facility, trying out her new bed. She was likely going to be euthanized the day after we adopted her as she was considered unadoptable. After 13 teeth were removed, the rest cleaned and some good food, she is a very happy and loyal pet. Thank you again!"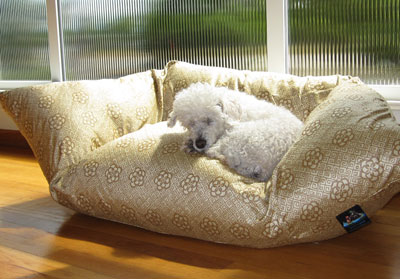 "I just received the dog cover, and it is fantastic. Love it. I have been looking for this type of cover for a long time... the other dog beds/covers out there scream "dog!", and I was looking for something stylish that would be kinder on the eye. I posted this on my Facebook page. Here is my dog, Breezy, on her new bed cover. We're taking her old bed cover with recycled stuffing to the Humane Society. Best regards - and thanks for a great solution on many levels!"

Greener Pup beds are great for snuggle buddies!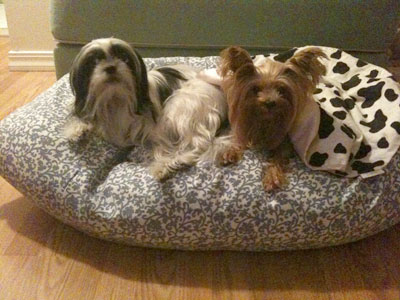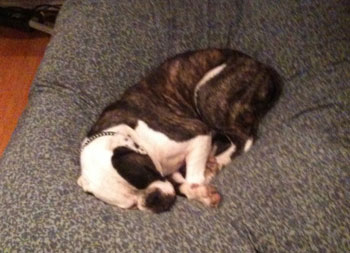 Comfy Rutherford on his new bed!

"Here is a photo of Henry on his bed. He loves it! Thanks again!"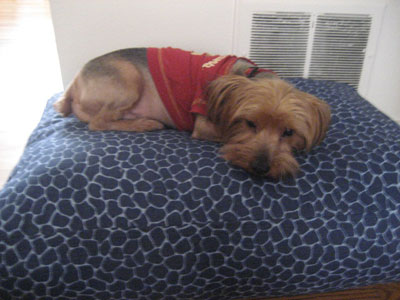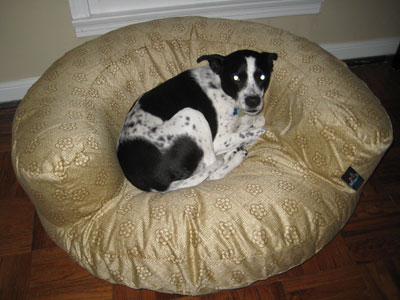 "As you can see, Sassy loves her new bed! I can't believe it took me nine years to find the perfect bed!"

"Look who just got her cuddle bug!!! Thanks again Kari! That was so sweet of you to do for me. I hope all is well! "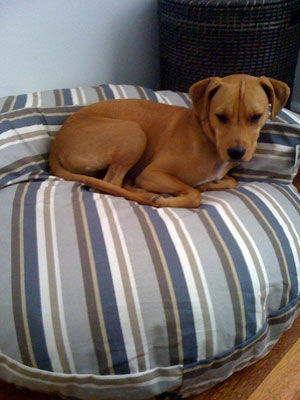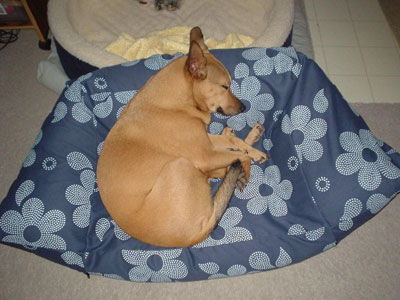 "Here is Saffron trying out her new bed before we could even move her old one! She is no couch potato, but she loves her new "recliner." When I think of Saffron's early life as a stray, sleeping wherever she could, I am wholeheartedly thankful that she can now sleep safely, whenever she wants, wherever she wants, and in such comfort. Her new bed is very well-made, beautiful, soft, cushy, and non-toxic; we want this precious pup to be healthy now and for years and years to come! We ordered our second bed today and can't wait for it to arrive for Saffron's birthday in March. We look forward to watching the birthday girl sleep with abandon. Thank you all for a wonderful product - obviously the result of tremendous care and thoughtfulness. Your communications have been very much appreciated and your mission is deeply valued. We plan to tell everyone we know about Greener Pup and Ace of Hearts!"

"I just wanted to share with you how delighted my dogs are with their new bed. As you can see in the attached photos, they love it."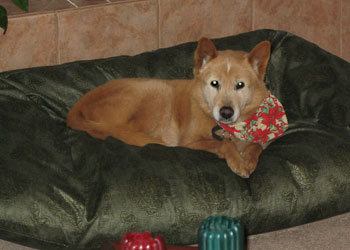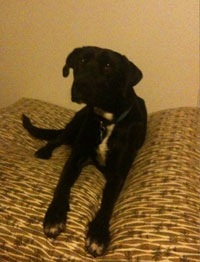 "Unfortunately my dog will not sit still enough to get a good photo! These were the best I could get!! Thanks and he LOVES the bed - I swear I can't get him off of it!!"

"My dog Brahmin really loves his new bed. My husband and I rescued Brahmin about 8 years ago. Although he enjoys lots of luxuries, he's never had a dog bed before. When we put the bed down for him, he settled himself in it right away. He seems to find it very comfortable, and I am really pleased with the design. I'm absolutely pleased with my experience with Greener Pup. I totally support you in your endeavor to help needy dogs and protect the environment, and I found your customer service to be superb."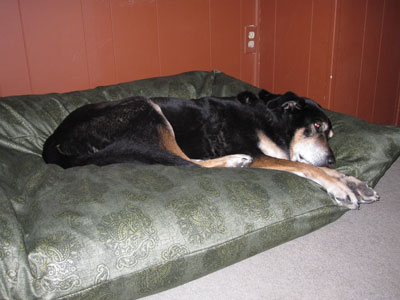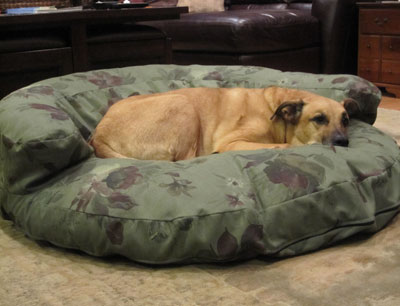 "We received the bed and Duke loves it! Thanks so much!"

"OK, I am a type A type of person, who likes to plan for things far in advance. So, I ordered the new dog beds from you, before we needed them. The extra large beds are awesome! Last week, I was wishing that you made a larger bed, because Max's legs are a little too long for the large bed. I thought that I ordered your largest beds the first time that I ordered. Did you come out with a new, larger bed*, or did I make a mistake, and order the large beds instead of the extra large beds, when I ordered the first time? Either way, the dogs LOVE their new extra large beds!" *GP note: Our extra-large size beds weren't available yet when Jess placed her first order.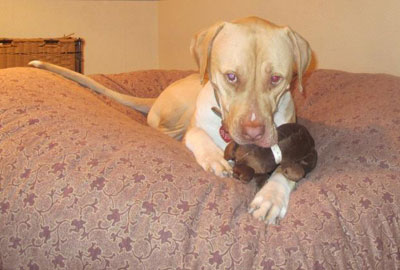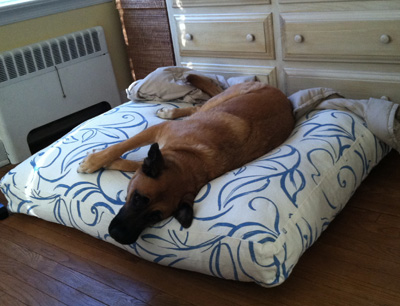 "Thank you Kari and Chuy for working with us - Dakota loves the new bed!"