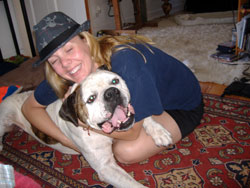 Pictured above: Jake and his new mom. Jake is one of many dogs rescued by Ace of Hearts.
100% of the proceeds from your order will benefit non-profit dog rescue Ace of Hearts.
Ace of Hearts is dedicated to rescuing dogs the day they are scheduled to be euthanized and finding them permanent, loving homes. We have saved over 2,000 dogs to date and with your help, we will continue on our mission to save the lives of at-risk, abused and abandoned dogs.