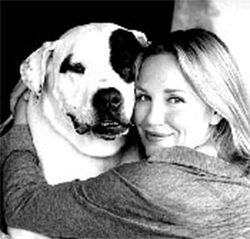 Ace with founder Kari Whitman
By purchasing a Greener Pup bed, you won't just be making your pup happy and snuggly...you'll be helping other, less fortunate dogs as well. Kari Whitman founded Greener Pup to help save the earth and save animals at the same time -- 100% of ALL profits from Greener Pup goes directly to the Ace of Hearts foundation.
Ace of Hearts is a 501c-3 dog rescue foundation dedicated to rescuing dogs the day they are to be euthanized from various Los Angeles shelters and placing them in loving homes. The Ace of Hearts Foundation is in memory of "Ace", a wonderful American Bull dog who was rescued from death, and touched the lives of many - especially founder Kari Whitman. Ace of Hearts does not discriminate against ANY breed, and has saved the lives of thousands of dogs.
100% of ALL profits from Greener Pup goes directly to the Ace of Hearts foundation.
Ace of Hearts has placed thousands of deserving dogs in loving new homes. Some dogs need extensive surgery and medical care before they can be adopted.
---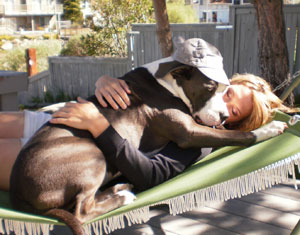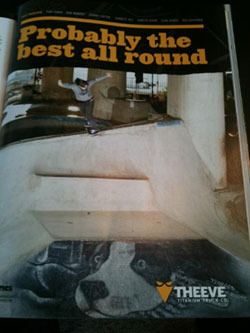 Scout (formerly Hubbell)
Well Scout's adoption anniversary was last month and I wanted to send you some updated photos of him. One of the photos is actually a mural of him at the skate park where Joe skates. He made it into an ad in Thrasher which is a national skate magazine. The other photo is of him lounging with me in Tahoe. Best of luck with your pooches and finding them homes. We are so happy to have Scout. He's been such a blessing.
Thanks, Angie
Peluche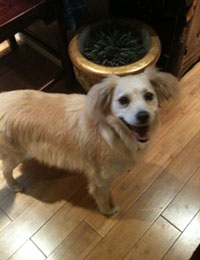 Peluche's first night in his new home. Look at that smile!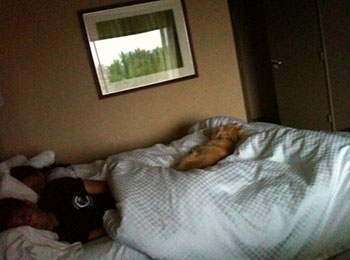 4th of July weekend at the Westin in Costa Mesa; the room came with a dog bed, but he made other arrangements.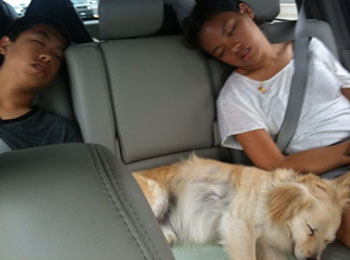 Driving back home from Newport Beach after a weekend trip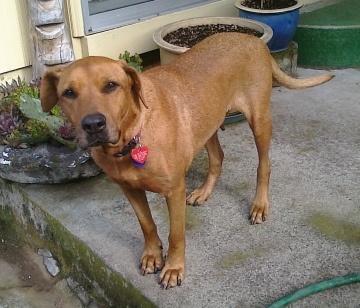 Hailey
I don't know how I found Save a Dog or who sent me in the right direction, but I had been walking and petting my virtual fosters daily for as long as I can remember. I didn't have any particular type of dog or location that I preferred, just knowing that a small amount might help kept me fostering and re-fostering. Eventually, I stumbled upon an emaciated dog named Hailey. She had been rescued from a high kill shelter on the day she was scheduled to be put down.
I virtually fostered her and posted her page on my profile multiple times hoping that her sad figure would spur interest in her and the site, but time went on, I kept on re-fostering her, but no sign of her leaving the kennel and being actually adopted seemed imminent. Day after day there was her emaciated body on my screen until one day, I looked at her and said to myself, "What if?" And with that one question the wheels were set in motion. We were already a pretty full house, me, my husband, and our three dogs, so taking in another dog wasn't something we were planning on, but off we went. I filled out the application with the Ace of Hearts rescue shelter in California and next thing I knew, we were arranging a house inspection for approval by a local shelter. Once completed the only thing left was to prep for a road trip. Hailey was in the Los Angeles area and my little family was in Portland. On a fine Spring day in May, we met Hailey at her foster home in San Gabriel and welcomed her into our family. Just looking at her you can tell she's had a rough life. The vets have estimated her age to be either 8 or 9 and she's definitely had at least a couple litters. She has scars all over her body and face from what I can only imagine she must have endured to survive on the streets of LA. Looking at her eyes we initially thought she probably had cataracts, but our vet informed us that it was not, but rather scarring. Well, that's the end of the sad part and I'm proud to say that that part of her life is over. She will never have to worry about where her next meal is going to come from, she will never wont for love ever again. Now she happily curls up on her blanket with a full tummy and a family that loves her dearly. We call it her well deserved retirement. She is so full of love and we are so lucky to have her as part of our family.
-Marci L. Siaw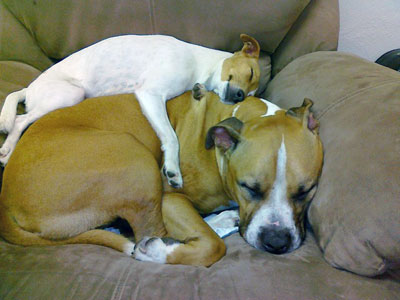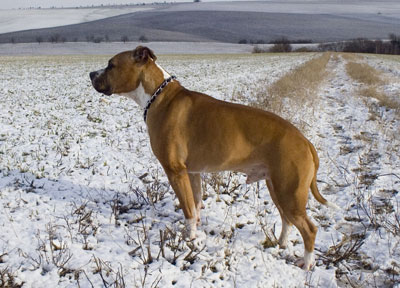 Theo
Theodore and I just wanted to say hi to everyone at Ace of Hearts Rescue. It has been about 2 years now since I took Theo in and we are doing wonderfully here in Czech. Thank you very much for letting me adopt Theo, he is the great dog. I have enclosed a few pictures of Theo.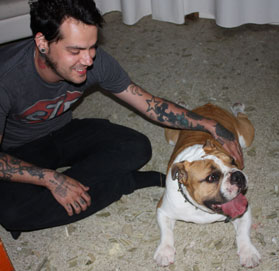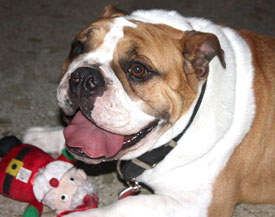 Harley
oh we love Harley so very much! thank you thank you!! he makes the cutest sounds when he is happy almost like he is trying to talk to us! I attached some photos of us spending time together. Thank you again, Nina.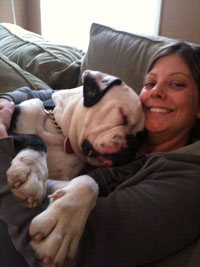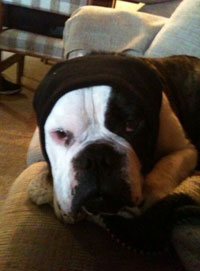 Rutherford
Rutherford is home! Here are the fruits of your labor!
Winnie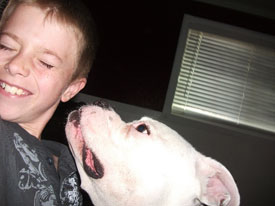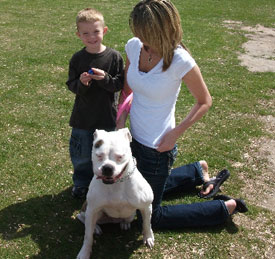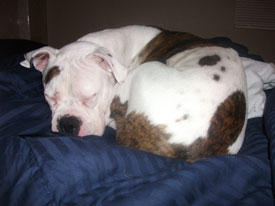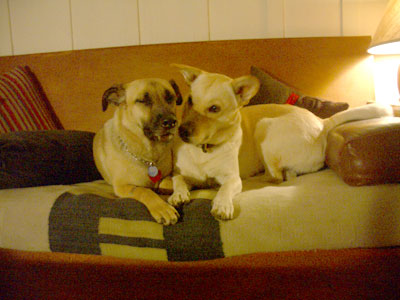 Tulip
Tulip came to us courtesy of Ace of Hearts a little more than a week ago, and from day one she has been a perfect addition. She's a little over a year old, judging by her habit of moving, not chewing shoes, and a perfect lady. We lost our older dog, Etzo, this year, and Paco, our surviving rescue (from ROMANIA, no less!) has welcomed the company with open paws. Apparently she was rescued from a high-kill shelter in Kern County, and was fostered lovingly through Ace right nearby in Echo Park. She's adapted to our routines easily and especially enjoys our big yard, long walks in the local parks, and a weekend on a nature trail in the desert. She's still a bit skittish about passing through our pet door on her own volition, but any day now... Thanks to the whole team at Ace of Hearts for making all of our hearts beat faster! - Tony & Dan & Paco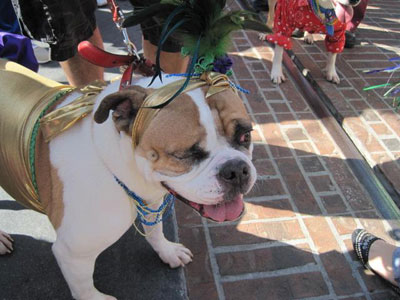 Tallulah
Hi! I adopted the best dog in the world from Ace Of Hearts about 3 years ago after her having surgery for her eye removal and spaying. When I first adopted her, the vet said she was a bit underweight for a bulldog, and she had a tough time adjusting to the loss of her eye (she kept walking into doorways). Sorry it has taken so long to give you another update on Talluhla, we've been so busy going to the dog park, attending bulldog meet-ups, and just enjoying our time together! Talluhla is the best dog anyone could ever dream of having! At first she was very shy, and grew very attached to me. We had a problem with separation anxiety (which was fixed with the help of a behaviorist and the vet), but she is completely better now. In the past couple of years, Talluhla has gained confidence, and has let her amazing personality shine though. She is a great dog. Her appearance has gotten better now that all her scars have healed and her hair has grown back. She's a stunner! People on the street are always asking what breeder I bought her from, and are always stunned when I tell them, "She's a rescue dog, that was dumped at a shelter and was set to be euthanized". No one can believe that any dog this amazing could ever be dumped off! Anyhow, Talluhla loves to get dressed up and go to dog contests. She loves interaction with all the other dogs, getting the attention from all the people, and of course getting all the treats and bellyrubs!
She currently holds the tittle of "Miss Mardi-Gras 2010" after competing in a contest at the Farmers Market. She also just came in 2nd place at a dog food eating competition at Petco, and she won best costume at a halloween costume contest last year. Sunday she competed in the Bulldog Beauty Contest in Long Beach, and although she did not win (it doesn't matter cause she's a winner in our eyes) she had tons of pictures taken of her that made it into the papers, and a local news station even sat down to have a interview with her! I'm sure if she could talk, she would have thanked Ace Of Hearts for saving her life and placing her in a good home, so she could enjoy each day, like she has been doing. Anyhow, Thank You for allowing me to adopt Talluhla. I love her to bits! I sent a couple recent photos of her. Best, Andrea S.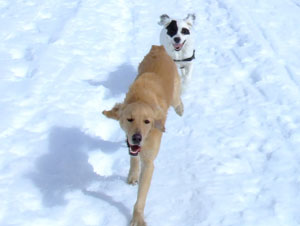 Panda
Clara's new name is now Panda. She's so adorable and we have completely fallen in love with her. She's just such a sweet dog. We are currently in Mammoth and she loves the snow. She even made a new friend! Thank you so much for giving us the opportunity to adopt such a wonderful and beautiful dog!!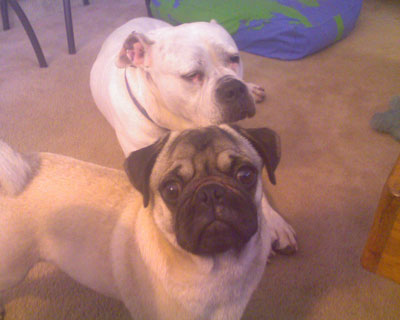 JoJo
JoJo is doing great and becomes funnier everyday. She is quite entertaining thinking that she is a 17 lb. pug. Burrito thinks he is a 70 lb bull dog!!! They play together, cuddle together and totally love each other. Who would have known. Hope all is well with you both and that Ace of Hearts is doing well.
Love,
The Buffa Family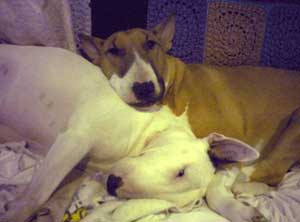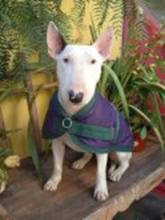 Ivory
Hi Kari. Just a note to tell you Ivory (formerly, "Porkchop") is doing GREAT. It's been five years since we flew back to Maryland together, and we've recently adopted another Bull Terrier. He brings out her "inner puppy." Thanks again for helping us with the long-distance adoption. Our lives are so much richer because of you.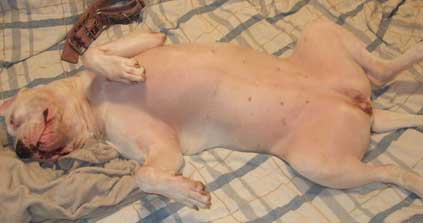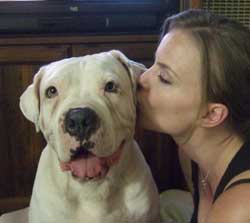 Molly
Hi Kari!
Just wanted to let you know how well Molly is doing with us. It's coming up on two years and I can't remember life without her! She is without a doubt the best dog and the best thing I have ever done. I can't thank you enough for putting us together :)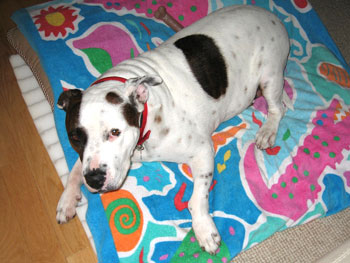 Mel
From Mel's new family:
Ace of Hearts, Kari, Eric, and Mel's Foster Parents,
Thank You, For bringing Mel in to my life!! I've been visiting different adoption agencies in the area and Ace of Hearts is the best organization I've come across. It's evident all of you care very much for animals and are mainly concerned about finding loving homes for your dogs. Eric listened to my "wish list" for a dog and instantly knew Mel would be the right one for me. I feel so lucky and fortunate to become his new parent. I didn't think it was possible to satisfy every wish on my list!
Mel is super mellow and gets many compliments every time we go for a walk. He is all Eric said he would be. I haven't heard him bark yet or be the aggressor to people, dogs or cats! Mel is the perfect companion and loves to be loved.You can see Mel lounged here on one of his soft beds.. Mel, loves to spread out on something smooshy!I think what all of you are doing is very admirable and I hope you will continue to get the support you need to revive dogs and pairing them with deserving families.
Jake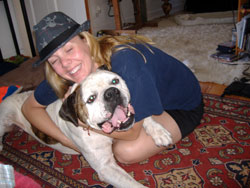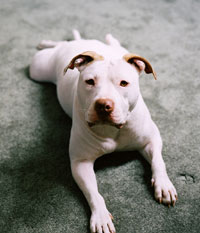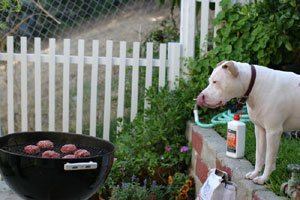 Madi Lou
From Madi Lou's new family:
Just wanted to say thank you for brining Madi Lou into our lives. She is the best thing that ever happened to us. Attached are a few shots so you can see how well she is doing. Josh and I were browsing your site and came across Maggie the dog with the chemical burns. It just broke our hearts. We made a small donation. I hope it helps a little with her medical bills. Thank you for all the wonderful work you do.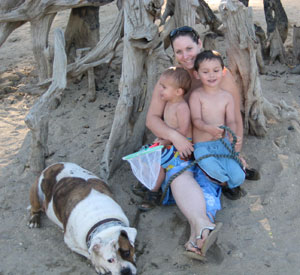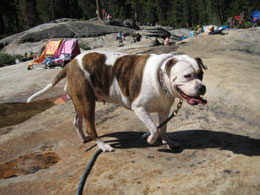 Roxy
From Roxy's new family:
GiGi, now known as Roxy is doing awesome! She's my baby girl. We've been taking her everywhere this summer. She loves the lake! She is the best wake eater ever! She pounces up and down like a puppy trying to get the little waves. We went swimming in a creek and she got to chase fish around. My boys love her to pieces and she just melts when they lay on her. We love our Roxy. We wouldn't be the same without her. We can't thank you enough for our furry family member.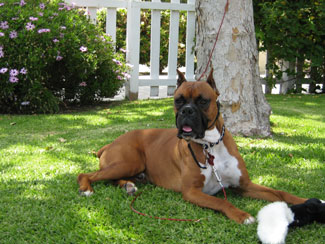 Coby
From Coby's new family:
Robin and I wanted to pass on an update about our successful rescue of Coby the Boxer. As you know, I fell in love with Coby upon first sight. I learned in my courtship of Robin, that she takes much longer to admit love than I do. Well, I assure you now, there is no turning back for either of us. He has become a loved member of our family, a pleasure in the house and the interest of every passer-by. Coby is a kind dog that gravitates toward people. He's great with kids and has made great strides with other dogs. People on the street always stop to pet him and comment on his handsomeness.
We are so proud of the work you do at Ace of Hearts. Your kindness and consideration towards dogs is profound. You and the volunteers are marvelous people that are improving life. We are most appreciative of the support and sponsorship Coby received by an Ace of Hearts donor. As a result of his sponsorship, Coby was able to attend Linn Boyke of Zen4K9's "Board and Obey" program. As a graduate of Linn's program, Coby can now sit on command, run on a treadmill, maintain vigil in his "casa" (also a gift of his sponsor) and socialize with other dogs off-leash. I highly recommend Linn Boyke for any dog aggression issues. (www.zen4k9s.com)
In closing, I should have you know that Robin and I struggled with pregnancy for over 18 months. Coby's arrival brought us a new set of responsibilities which helped mitigate our pregnancy focus. To our delight, Robin is now 3 months pregnant and we've had Coby for almost 3 months. Do the math! Clearly, our rescuing of Coby was one of the best things that ever happened to our family.
Thank you for the lives that you change.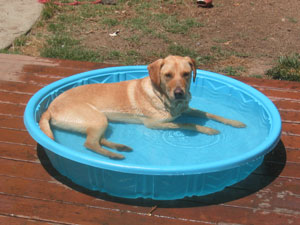 Madi Lou
Thought you might like an update on Lily. She is healthy, happy and enjoying the beginning of summer in her poo!.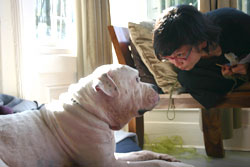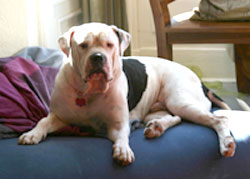 Madi Lou
From Moose's new family:
I have been meaning to send this email for some time now, as I thought you all might be interested in how Tyson (since renamed to Moose) has been doing. To put it generically, Moose has been a dream. He really has brought a great new dimension to our daily lives. It is hard to remember what life was like before him. In terms of training, once he got used to his new name, he learned all of his commands very quickly. Clearly, the smartest dog in the world. In terms of health, he has also been great. As you can see from the attached pictures, his face has really cleared up. When we first got Moose, we took him to a vet dermatologist who recommended a course of antibiotics to clear up the infection from the allergies. We also changed Moose to a dry raw food diet to which we add cut fresh vegetables. If nothing else, this guy is food driven. The infection has not come back since that one course of antibiotics and the patches of peachiness have gone away. In terms of demeanor, this guy gets along with everyone. Everyone wants to hang out and get kissed by Moose! Anyway, thought you all might want to know what happened to Tyson/Moose.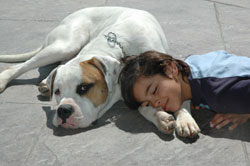 Henry
From Henry's new family:
Henry is doing AWESOME! We are SOOO HAPPY with him.
He is a people pleaser...and loves people and attention very, very much! We love HIM very much! My neighbors have all given me the "approval" on Henry as well !!! Henry is a super, super dog. I am so happy because I know he will be with us FOREVER because he just FITS IN with us. He is happy.....and he makes us happy. He is spoiled with attention....and should be. Poor dog is EXHAUSTED by days end from all the playing and tail wagging he does!
Earl
Earl, sharing a quiet meal with his new buddy.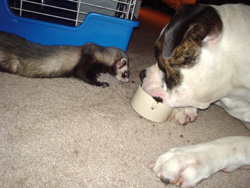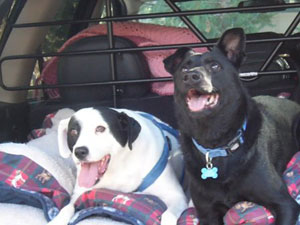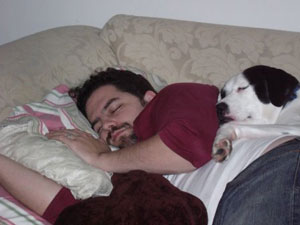 Muffy
Just wanted to drop you guys a line and let you know that Muffy is doing amazing. We adopted her in February of 2004 from you guys and now we couldnt imagine our lives without her. She is the most loving, cudliest dog we've ever met. Muffy's favorite things to do are nap on the couch, lay on top of people, go to the park and, of course, eat! She still gets along with Gabby great (our other rescue) and they now are inseperable. Thanks so much - we've attached some pictures of Muffy too. Hope all is well.
Geisha
From Geisha's new family:
I thought you might like to see these.Thanks again for everything. We are very blessed to have Geisha in our lives.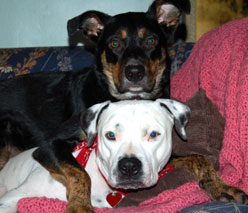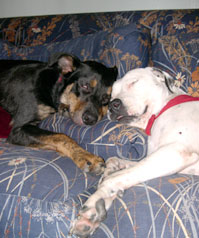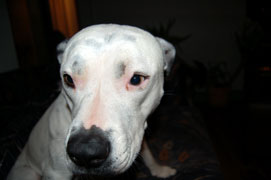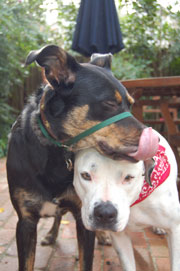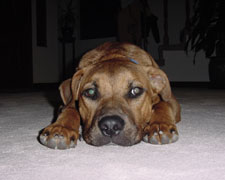 Molson
From Molson's new family:
We just wanted to drop you a line and let you know that Molson is awesome and we love him so much. He's super smart and a great dog and we've have taken him everywhere already. Here's a few recent pictures of him.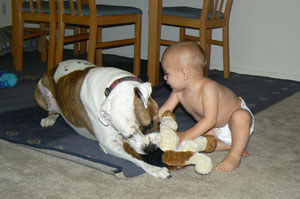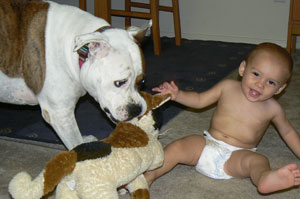 Gigi
Hello there Ace Of Hearts. Just an update on GiGi here in Clovis, CA. She's doing wonderful. A Jewel! She is one of the family! GiGi is doing great. No skin problems and the urinary problems are in the past. She's super healthy and has gained about 10 pounds. She's at 84 lbs. We take her out on a bike ride/jogging every morning and walks at night. She's been on 2 trips with us so far. She got to go camping in Santa Barbara recently and go to my sons first birthday party (all the kids LOVE her).
Lindsey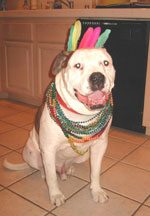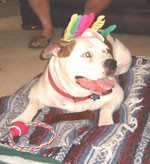 Rowdy
From Rowdy's new family:
I just wanted to share with you some of the photos we took of Rowdy's birthday party that we had for him back in April (along with his canine friends). We made him his very own birthday cake and he had all kinds of party favors! He had a great time! It's been over a year since we adopted him and we cannot imagine our lives without him. We take him with us almost everywhere we go. He is the smartest dog either one of us has ever had. Sometimes we think he is human! We are waiting for him to start talking any day now! He is so gentle, loving, and well-behaved. We can't imagine why anyone would want to get rid of him. All of our neighbors love him. He is a huge part of the family. Thank you so much for what you do!
Vida
From Vida's new family:
Vida is doing great! We have been loving The Canyon Dog Park, it rocks! She gets along great with other dogs, she plays. She'll have moments if another female dog barks/jumps at her but she doesn't start anything. And her and our cat are tooooo cute. Vida cleans/kisses/licks Domino to sleep! They love each other I know it.
Kari, I cant thank you enough for the match you made with us. You have made this happy family feel so complete.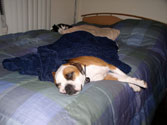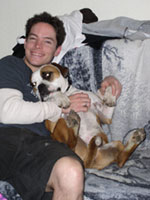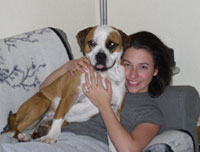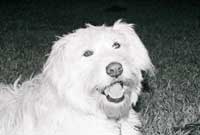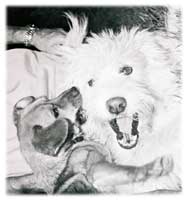 Qunincy
A ntoe from Qunincy's new family:
Just a follow up on Wallace AKA Quincy... He's the perfect dog! We no longer worry about strangers approaching him to give him a hug. Ever since we got his little buddy Stempel, Quincy has completely stopped all aggressive behavior! We enrolled both dogs into a basic dog obedience school...Quincy is a fast learner and the most well behaved dog in the class. I wish I could say the same for his little brother Stempel...oy! Quincy snuggles and sleeps with a few of our cats - believe it or not! He only barks when someone has approached our house - great watch dog. He seems to be training Stempel to do the same. Every time we say the word "walk" both dogs start running to the front door and back to us as excited as can be. My husband and I have to say "W" instead of walk so we don't get them hyper! We can talk to him and he moves his head as if he understands...actually, I know he understands everything we say - so we are careful about teasing him. Sounds crazy - huh?!!
I have attached a picture of Quincy and Stempel wrestling - they love to wrestle!! I hope all is well with you and your rescue group. Quincy has been a beautiful addition to our family!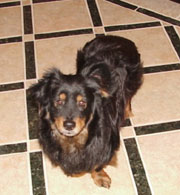 Paddy (Dixie)
From Paddy's new family:
Just a quick note to let you know that Dixie (formerly Pat / Paddy) is doing fine and we couldn't be happier to have her in our family! She and Boomer play together and get along well now. We discovered that Dixie likes to chew and play so she now has a big box of toys to help her expend her chewing energy on. Dixie is the sweetest, most loving dog we could imagine having and we are so happy to have her with us. It is terrible to think that this sweet, beautiful little girl might not be with us now had you not rescued her. It was well worth the drive to Los Angeles from Las Vegas to make her a part of our lives! I would strongly recommend anyone consider adopting an adult rescue dog. Dixie is our third rescue dog and all have been wonderful, loving members of our family. We immediately had a personalized tag made for her collar which she wears with the Ace Of Hearts tag and the blue micro-chip tag.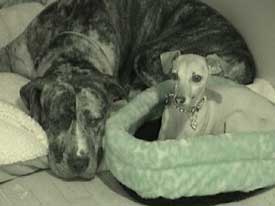 Vinnie (Wyatt)
From Vinnie's new family:
Brought Vinnie (now Wyatt) to dinner Saturday night at my cousins' house - they have a foofy little Italian greyhound rescue who's afraid of everyone and everything - EXCEPT VINNIE! Not a great pic, but it demonstrates what a vicious beast he is (i.e. the complete sweetness that you, Mindy, Amy & everyone else involved in saving him has seen...). I am so grateful to you for saving him & connecting us. I can't describe how great he is, but you know...
Diamond
Diamond was thrown from a 2nd story balcony and her 2 front elbows were broken on impact. But she's recovered and is now enjoying her new family! Here's a note from her new mom: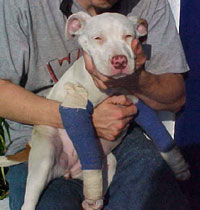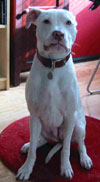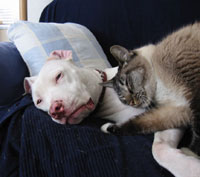 "Here is a picture from last weekend of Diamond at the beach with me and Vegas. You have to hold on to her to get her to hold still long enough to take a photo now. A far cry from when she came into our lives! She is awesome. She has learned so much. She knows the usual (come, sit , down and stay) but has also mastered wave, high 5, roll over and speak. I can't imagine our lives without her. Vegas is a little over protective of his sister though and does not let anyone mess with her. The second they are too dominent he gets between the strange dog and Diamond and regulates! We enjoy having her in our lives so much and are very thankful to have her."
- Helen, Vegas and Diamond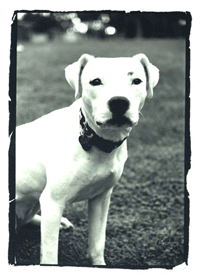 Daisy
From Daisy's new family:
Kari,
We just wanted to send you a picture of our beautiful Daisy. She is doing so well. A good friend of ours is a photographer and took some beautiful pictures of her. I thought you would like to see one. She is doing so great. It took her a while to get over her illnesses but she is doing just great now. We love her so much and wanted to thank you for giving us such a great gift. Daisy is such an important part of our family now we can't imagine being without her. Thank you so much. Our friend takes lots of animal pictures, so if any of your dog owners would be interested in getting pictures taken of their new babies let me know. He would be happy to take them. Hope you are well. Thanks again.
Emily and Sara Turney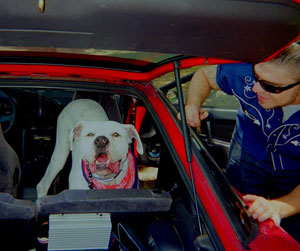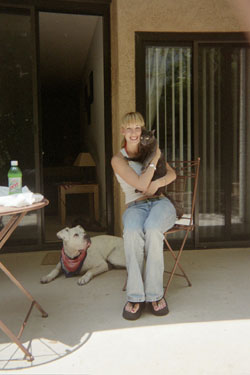 Scully
Hi,
Just wanted to give an update and thank you Kari, Christie and everyone involved with Ace of Hearts for giving us, the wonderful gift of a loving companion. Scully is the sweetest most lovable dog I've ever met. We've had him for a few months now, and he has brought so much joy to our lives. He really is perfect and sooo well behaved! He loves everybody, and although people get nervous on our walks because of his size, he hasn't got a mean bone in his body. The best way I can describe him is a big baby. He gets along great with other dogs, never barks at them even when they're barking at him, he gets along with my cat Prince which is what we were worried about initially. He is extremely mellow and easy going, he doesn't mind when we leave, no separation anxiety but always greets us at the door with a tail wag, then promptly rolls over on his back for a belly rub. The funniest things about him probably are what a messy eater he is, (he gets his face wiped just like a little baby after eating and drinking) and how quiet he is. He hardly ever barks and on the rare occasion he does, it's a little muffled through the lips WOOF. He has never once whined since we got him, instead he will paw at your arm to get your attention, like if your sleeping, or if he wants you to pet him more if you stop, it's so cute, but it's one heavy paw! He loves the car, treats, tug-a-war the beach, and his papasan chair more than anything. Here are some pictures from the 4th of July when we went to go see a parade. Thank you so much!!
Love,
Scully, Emily and Brian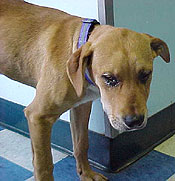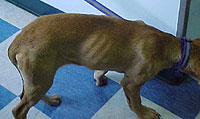 Before
Now
Tessa
Thank you, Sandy Landar!